The artist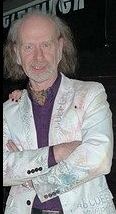 "Jaunty-Figurative" is the term that artist Erik Zwezerijnen (Jutphaas 1958) likes, to describe his paintings with. "It's an unique combination between reality and fantasy, expressive emotions and rich of bright colors". Used theme's are animals and cityscape / skylines.
The paintings of Erik Zwezerijnen were recently exposed at exhibitions, musea and galleries in New York, Miami, Barcelona, Paris, Mexico, Santa Fe, Buenos Aires. And in his own gallery in the old town district of Groningen, The Netherlands.
In 2006 he received the award of the Intern Art Competition Kirckland/ Washington USA and in 2011 he was appointed ambassador of Drenthe.